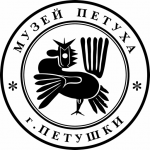 MBUK "Museum of the Rooster"
on April 9, 1997 in the city of Petushki, Vladimir region opened the world's first art museum of the Rooster
The founder of the museum, Nikolai Izosimovich Kornilov --- artist, journalist and patron of the arts, President of the International Association "Art of the peoples of the world", honored worker of arts of Karakalpakstan, Commander of the Order of the Holy Prince Daniil of Moscow for services in the revival of spiritual life in Russia.
And when on the eve of 1993 - the year of the Rooster according to the Eastern horoscope - Kornilov announced to his friends and colleagues "let us draw the bird of the year", both artists and masters of applied art, and even those who had never held an artistic brush, took up the work with great enthusiasm. Everything created by the participants of the project was exhibited in the center of Moscow in Banniy Pereulok and almost all through the current year Muscovites and guests of the capital came to watch this show.
But the Year of the Rooster was over and it was necessary to look for a place for such a unique collection. The question of creating a museum arose, but where? Of course!!! Venedikt Yerofeev's poem "Moscow-Petushki" made this town famous all over the world. And where, if not in Petushki to open a museum of Cockerel?
Today the museum occupies 195.8 square meters and is located in the building of the District House of Culture.
Where to go on a weekend? To us, of course!!!
Our museum, which is not far away, inexpensive and always interesting!
Participating with:
Exhibition Fairground
Moscow, nab Krasnopresnenskaya, 14