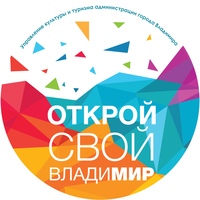 Department of Culture and Tourism of Vladimir Administration
Vladimir is the administrative center of the Vladimir region. In the 12th-14th centuries, it was the capital of the Grand Duchy of Vladimir. One of the largest tourist centers of the European part of Russia.
The city was founded in 990 by Prince of Kiev Vladimir Svyatoslavovich (Krasnoye Solnyshko). In 1108, Vladimir Monomakh fortified the city into a fortress to defend North-Eastern Russia.
XII - the beginning of XIII century. - the period of the highest blossoming of the city, in 1157 under the prince Andrey Bogolyubsky it became the capital of the Vladimir-Suzdal princedom and the political center of the Old Russian state.
At this time were created the grandiose monuments of white stone architecture of the Vladimir land - Golden Gate (1164), Assumption (1158) and Dmitrievsky (1197) cathedrals, which are included in the UNESCO World Heritage List. In 1299 the city of Vladimir became the residence of the metropolitan, previously located in Kiev.
Since 1778, Vladimir became the center of the Vladimir Province, and since August 1944 - the administrative center of the Vladimir region.
Now Vladimir is a modern city, the administrative center of the Vladimir region, a major tourist center of the European part of Russia. Its convenient location and unique monuments allow Vladimir to grow rapidly and be popular with tourists from all over the world.
In addition to unique architectural monuments and historical museums, in recent years Vladimir has opened interactive sites, visiting which you yourself will take part in a fascinating process, get unforgettable emotions and touch the revived in front of your eyes history of the city.
Participating with: