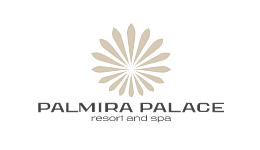 Palmira Palace Resort Hotel
Elegant hotel in the historic center of the elite part of Yalta, on the Black Sea coast. Palmira Palace has a rich history. The hotel is located in the resort village of Kurpaty. The Kourpaty estate was the last royal family's acquisition on the South coast of Crimea.
The hotel is surrounded by historical objects, country residences and palaces of royal families. Livadia and Vorontsov Palaces, tsarist path, Foros Church and Swallow's Nest are situated nearby.
Breathtaking view over Yalta bay and sea to the legendary Ayu-Dag Mountain, one of Crimea's symbols, opens from Palmira Palace Resort & SPA's territory.
The hotel offers a wide range of SPA-services (over 500 procedures from all over the world) and unique health programs all year round for complete rest and recovery.
Guests enjoy cozy rooms on the first coast line, gourmet restaurants, indoor and outdoor heated pools with sea water, picturesque steam bath, Russian bath, hammam, water park, animation for adults and children, children's club, fitness center, equipped beach and promenade for walking.
Immerse yourself in the space of rest and recovery against the picturesque natural scenery of the Crimean peninsula, the boundless gentle Black Sea and the mountains, giving strength and energy.
Participating with:
Activity type