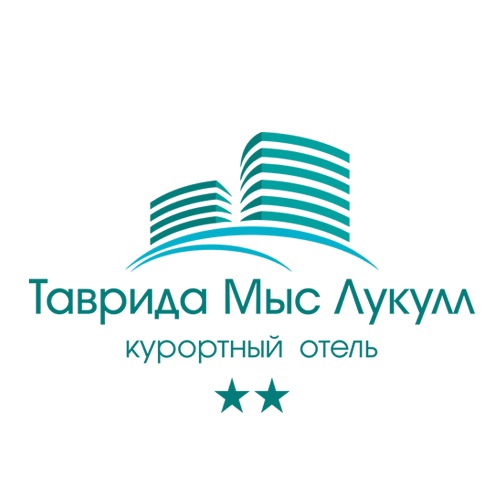 Cape Lucullus, Ltd
LLC "Cape Lukull" is a company that hosts and accommodates guests in the resort hotel "Tavrida Cape Lukull "** in the village Uglovoye, 30 km from Bakhchisaray, on the west coast of Crimea.
Management company "Hotels of Crimea" is a key partner of "Cape Lukull", which represents the interests of the company in the tourist market and manages the quota, wholesale and retail sales, reputation, loading and promotion of the hotel.
Tavrida Resort Hotel "Mys Lukull" is located in the resort village Uglovoye, 30 km from Bakhchisaray, on the west coast of the Black Sea. The hotel is ideal for family holidays with children - the proximity of the sea (first coastal line), curative climate, gentle shore and smooth entry make the holidays safe and comfortable. In the village Uglovoye sea water is heated up faster than on the southern coast of Crimea. The combination of sea climate and dry steppe contribute to the treatment and prevention of respiratory diseases.
Resort hotel "Tavrida Cape Lucullus" is located 50 meters from the sea in the center of the park area, which occupies 4.5 hectares. The hotel complex includes two hotel buildings, connected with each other by a passage, the dining room building, summer ground "Calamita", outdoor pool, playground, children's club, parking and grounds for animation. The area is closed to outsiders, guarded around the clock.
Tavrida Cape Lucull Resort Hotel works on an "all inclusive" system. Cozy dining room in the dining room building offers healthy and healthy three meals a day in buffet style - a variety of salads, hot and cold snacks, first and second courses, delicious pastries, seasonal fruit and vegetables, traditional Crimean drinks, tea and coffee. Particular attention is paid to meals for the smallest guests. Special children's menu includes favorite steamed, stewed and diet dishes. The room is equipped with a new air conditioning system and recirculators.
Key partner:
LLC "Managing company
"Hotels of Crimea"
9, Gorky str., Sevastopol 299001
TAXPAYER IDENTIFICATION NUMBER 9203543601
REGISTRY NUMBER 1179204009863
KPP 920301001
Presentations
LLC "Cape Lukull" successfully implements the concept "all inclusive" at the resort hotel "Tavrida Cape Lukull.
More than 50% of the success of any hotel infrastructure facility depends on its location and concept at the stage of investment. 20% of success will bring the right marketing policy, automation of business processes and positioning of the object. 20% of success will bring the basic team of specialists, who will invest their professionalism in the training of the entire staff, maintain corporate standards and control the quality of services. And only 10% of success is to be expected from luck and fortune.
The success of the hotel "Tavrida Cape Loukull" consists of a favorable location on the west coast of Crimea 50 meters from the sea, the right food concept, inclusion in the pool of proposals of the MC "Hotels of the Crimea" from five hotels and correctly implemented marketing strategy.

Participating with:
Activity type
Type of tourism
Exhibition Fairground
Moscow, nab Krasnopresnenskaya, 14