Do you dream of a cruise trip, like in movies about a rich life?
You do not need to own a business empire to afford such a vacation. It is enough to go to Kruiz.online, where you will find cruises without extra charges with very pleasant discounts!
Snow-white liners cutting through the sea surface are no longer an inaccessible luxury. Our service will help you find a cruise from different cities of the world at the most affordable prices.
Mediterranean pearls
The MSC Seaside liner will immerse you into the atmosphere of serene relaxation in the best traditions of cruise travel: an open-air pool on deck, stylish cabins and unforgettable views of Palermo, Ibiza, Valencia, Marseille and other heavenly corners of the planet. The cost of the cruise is from 55,000 rubles per person.
Embark on a tour of the three countries of the Mediterranean on the magnificent liner MSC Armonia. Greece, Croatia and Italy will open on board a snow-white ship with its own cinema, casino, bars, restaurants, children's entertainment centers and cozy cabins. The cost of the cruise is from 43,500 rubles per person.
Persian Gulf tours
Complement your trip to the UAE with a cruise on MSC Opera. For only 30,000 rubles per person, you will embark on a week-long journey on the route Dubai - Abu Dhabi - Sir Bani Yas - Muscat - Khasab - Dubai, sitting in the stylish cabins of a majestic vessel. You will find restaurants with panoramic views of the bay, a spacious pool under the hot eastern sun, relaxation areas on the upper deck for relaxing at sunset, game centers for children, a casino for adults and much more.
Spend 4 unforgettable days on the huge MSC World Europa liner for only 18,500 rubles per person. Enjoy the views of the Persian Gulf, relax in the water park right on the deck of the ship, try the local cuisine in the restaurant, meet dolphins and get the most out of it!
Without visas: cruises from Sochi
The famous liner Astoria Grande, made in a classic style and combining all the most interesting entertainment for children and adults, sails from Sochi along the Black Sea. On board you will find luxurious restaurants, a spa complex, an open-air pool and jacuzzi, a cinema, clubs and amazingly soft beds in stylish cabins. The liner will take you to the most iconic cities of the Black Sea coast: Istanbul, Amasra, Sinop, Trabzon, Cesme, Sinop. The cost of tours is from 78,000 rubles per person. Fulfill your dreams with Kruiz.online! Go to the site and choose your ideal route.
Contact persons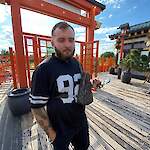 Exhibitor Contacts
443041, г.Самара, ул. Ленинская, 168, офис 528
More Expo showcases
Exhibition Fairground
Москва, ЦВК «Экспоцентр», Краснопресненская наб., 14