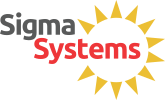 SigmaSystems OÜ
SigmaSystems OÜ was founded in 2013 but the company's employees have experience in renewable energy since 2008 when the first solar systems were installed. At that time the focus was only on the sale and installation of solar collectors (hot water production).
Today, however, the market situation is different and the range has expanded to include solar panels as well as various heat pumps. Solar energy is the most efficient form of energy when combined with heat pumps, because the electricity produced by the heat pump itself can be converted into heat many times over! Of course, each project is different and requires an individual approach.
Are you an installer, homeowner or entrepreneur? Find out more, we can help you fix your energy costs. It's the first step towards independence from rising energy prices!
Pärnu mnt 480b 10913 Tallinn
More information