Polish-Japanese Academy of Information Technology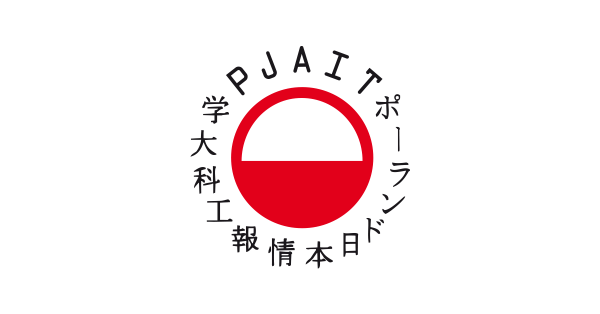 Polish-Japanese Academy of Information Technology
PJAIT students have an opportunity to learn Polish and Japanese for free during the academic year.
Students of PJAIT can pass part of their study period abroad - in a frame of the ERASMUS+ program (EU) or bilateral agreements between PJAIT and Japanese partner universities.
The benefits include contact with another culture and language, making new friends and gaining a broader perspective at one's field of study. The visits can last from 3 months up to a full academic year per each level of study. The Erasmus+ scholarship can be obtained for a semester max per each level of study.
Unique faculties: New Media Arts, Information Management, Interior Design, Culture of Japan, Social Informatics.
Our current education offer encompasses studies in computer science at The Faculty of Information Technology, studies in Graphic Arts and Interior Design at The Faculty of New Media Arts, studies in Information Management at The Faculty of Information Management, and, last but not least, Culture Studies at The Faculty of Culture of Japan. We offer several graduate programs in English: Computer Science Msc and New Media Arts MA, and in Polish: Computer Science Msc, Information Management Msc, Social Informatics Msc, New Media Arts MA.
We also run several postgraduate programmes and MBA.
PJAIT focuses on practical skills. Owing to that our students and graduates do not have problems finding a job. They are well equipped to work in many areas in which the practical knowledge of IT is the prerequisite. PJAIT employs outstanding specialists, researchers and academic teachers from Poland and other countries as well.
Students of all faculties can use excellent facilities, such as modern IT and graphic design laboratories. PJAIT also organizes numerous meetings with scientists, artists, IT companies representatives and future employers (e.g. Google, Microsoft, Samsung). PJAIT supports students' scientific research and interests. In cooperation with our partners, such as Microsoft, Autodesk, SAP, SAS, VMware, we offer our students free software required for classes and personal projects.
Facts
3D Tour
PJATK- your story starts here

Study in PJAIT. Gain knowledge and skills. Get inspired. Create your future.
History of one project

Grzegorz Gołębiowski - Project Spotlight - Robot
Project Spotlight- Andrii Kovalchuk

Project Spotlight -Aleksandra Stodulska

Project Spotlight- Michał Skrzekut

Project Spotlight- Liubava Halavai

Project Spotlight- Emilia Miękisz

Emilia Miękisz for a New York Times
Specialization | Apply documents | Admission | Prices
The enrollment for the winter semester of new academic year 2021/2022 starts in May and lasts till September either till the last date of the interview or the last place left in a group.The classes usually start in October. The candidates are enrolled in Computer Science Bsc and Msc, Information Management Bsc and Msc, Graphic Design BA and MA; Interior Design BA, Japanese Culture BA.
Another enrollment starts in  January and is carried out till March either till the last date of the interview or the last place left in a group. The candidates are enrolled in Computer Science Bsc part-time online  and Computer Science Msc full-time.
Discounts:
Each candidate from Belarus on Computer Science/ Information Management BSc can get a discount for the first semester tuition fee. The discount depends on the subject scores in the school leaving certificate in:
Geometry, Algebra, Physics, IT: 
30% discount for the average 9,20 from the subjects: algebra, geometry, IT and physics or 
10% discount for the average ≥ 8,00 from the subjects: algebra, geometry, IT and physics.
The candidates for all the courses can get a 2% discount if they pay one semester in advance or 5% discount for one year payment in advance.
25% discount from the tuition fee during all the period of studies for close relatives, who study in PJAIT at the same time.
20% discount for one semester tuition fee for the best students of the course.
Grants:
100 EUR study grant per month for 10% of the best students of the academic year.